tri.Attack();
A downloadable game for Windows
tri.About("

tri.Attack(); is a 2D arcade game with a theme inspired by classic Atari-era entertainment. As the player, you control a single tri with unique powers compared to other polygons. The tri has the ability to shoot out of your body. Once shot out, the tri can recall back to yourself. This boomerang-like tri serves as your weapon, which you need to use to defeat enemy polygons.

Several different enemies exist in the game, each giving different amounts of points. The score gained increases for each enemy defeated with a single shot of your tri. Attempt to get as high of a score as possible, unlocking all of the tri variants as you play!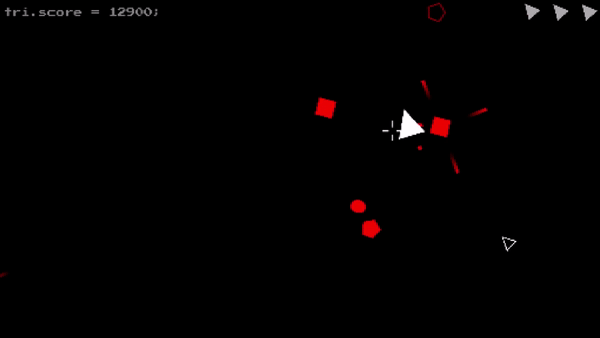 tri.Attack(); is designed and programmed by Demmy Mangusso. Composition is provided by Nick West. Additional programming by Yukon Wainczak

");
Purchase
In order to download this game you must purchase it at or above the minimum price of $4.99 USD. You will get access to the following files:
Comments
Log in with itch.io to leave a comment.
Fun little game! I am not particularly good at it :( but I had fun regardless x Thank you!
Not the developer, but i noticed that you are providing feedback to many of the games in the racial equality bundle. it must take a long time to do and you're giving new indie devs valuable feedback, good job!